I gathered up some cute Spring/Summer essentials, all of these are from
Old Navy
and they are all under $20.
For the girls.
And for the little dudes.
I shopped a bunch for Chloe's basket yesterday, but I'm still not satisfied. There isn't enough "fun" in it yet. Will share what I've gathered so far on Wednesday. I really can't say enough about the dollar bins at Target, I found Chloe's "basket" in there for $2.50. It's a really cute tote that I will personalize for her, and she will get a ton of use out of. I had first grabbed a bright colored ice bucket that would made a cute basket, but we have too many baskets and buckets around here, and they take up too much space. I'm happy with the tote, it folds into nothing and she will use it a ton.
I haven't found thee Easter dress. Partially because she won't want to wear what I've chosen that morning. Not unless I make something to her exact specifications, and even then there's no guarantee she'll wear it that day. But I found this little cutie online from Kmart. That's right,
Kmart
. I'm not above it, I love a bargain. This dress is $7.49. But Chloe won't like it because it doesn't show enough armpit. It's very similar to one I bought two easters ago, but I just love her in yellow. If only I can make her think it's her idea...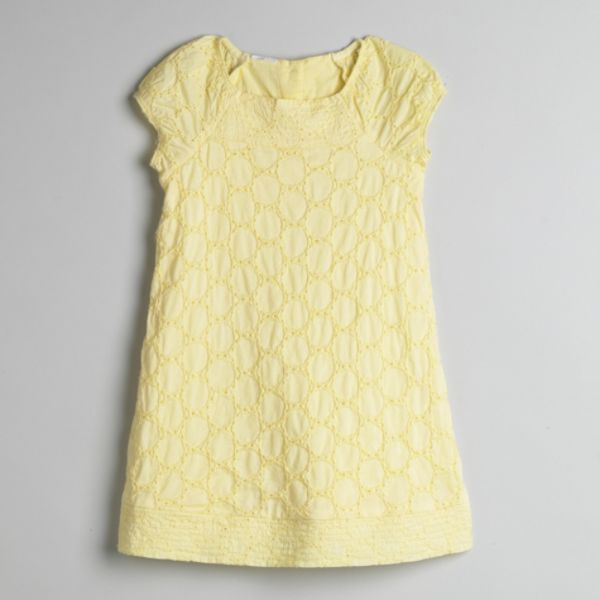 Lastly, Crayola has come out with some new colored
bubbles
just in time for filling baskets. They look like fun but come with all kinds of disclaimers about using them outdoors only in your "Saturday sweats not Sunday best." Along with lots of washing instructions. Solid colored bubbles would make for lovely photos but I think I'll stick to the old fashioned bubbles, big surprise.